30 Dec

Sanyan ChinaTown Fair 2021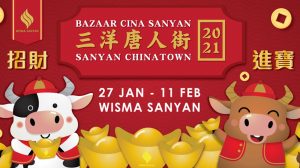 **Bazaar Cina Sanyan Kembali lagi**
Sekali lagi bazaar setahun sekali ini membawakan anda pelbagai jenis kek, biskut, hamper, dan barangan CNY yang lain. Tandakan kalendar anda untuk bazaar ini yang akan berlangsung dari 18 Januari hingga 11 Februari 2021.
一年一度的新春活动再次为您带来了各式各样的蛋糕,饼干,礼篮和其他新年糖果。活动日期为2021年1月18日至2月11日。记得标记您的日历!
**Sanyan ChinaTown Fair is back**
Once again, this annual event brings you a great variety of cakes, cookies, hampers and other CNY goodies. Mark your calendars as it's happening from 18th January to 11th February 2021.